On-Demand, In-Context Training and Support for Your Enterprise Web Apps
Reduce support tickets and get in-context help and training materials to your employees instantly while they are on task. Provide contextual support related to your business needs within any of your custom enterprise web applications or SaaS apps such as Dynamics, Salesforce, SuccessFactors, Workday, ServiceNow, NetSuite and more
VisualSP helps organizations successfully support their users by providing Just-in-Time Learning® and help in the context of their work environment. Training or help content in bite-sized format is delivered when the users need it, on-demand and directly on top of your application's interface. A quick and easy method to provide on-demand support and training.
Build your own custom help content
Start with your own documents, videos, or web pages and incorporate them as custom help items that are delivered within the context of your application's interface.
Launch content on user visit or on-demand
The training and help content can be set to appear automatically to user on their screen or appear on-demand as they need it. That way, you can push information to employees when you need them to see it and they can also revisit content as needed.
Brandable with your company name and logo
Configure VisualSP with your own custom icons and application title to help with user adoption. Users are more likely to use an application if they can associate it with their organization.
Control who can see VisualSP
VisualSP can be configured so it's only visible to users who need it. Make the help content available to select users and then change it around as needed.
See how VisualSP helps organizations successfully support and train their end users by providing them Just-in-Time Learning® and help in the context of their work.
Guide your users and help them get up to speed quickly by building custom step-by-step walkthroughs of important functionality or new features. A walkthrough is a microlearning guide that appears as an overlay on the environment.
Give your users their very own on-demand personal coach who will guide them through important learning points like a GPS. Your users can go through your custom walkthroughs as many times as needed, or just occasionally as a refresher. Walkthrough tutorials are the most popular medium of providing guidance and training to end users.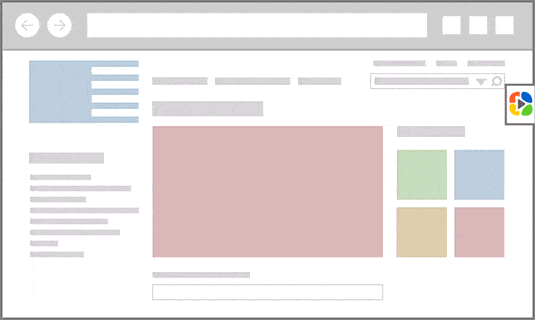 Have a video come up directly on top of the user's environment. These can be custom videos like a message from your CXO or short training videos. These videos can be hosted by you internally or you can link to external videos anywhere on the web. Videos are an ideal learning tool for users who like to learn and be informed by watching. The video window can be popped out easily so users can watch while they perform their tasks.
Provide on-demand information and help for elements on the page using inline help icons. Make the discovery process intuitive by providing visual clues for any element on the page. Unfrustrate your users with these interaction points that make it easier for them to access help and information as they need it directly on the page and at their moment-of-need.
Splash Screens or Pop-Ups
Your users may routinely ignore company email messages, absentmindedly deleting important announcements without even reading them. Ensure your users see important communications by using VisualSP to automatically load messages on top of your application as a pop-up that's tracked when clicked by users. Increase the efficiency of your messaging for important, company-wide notifications. Human Resources, Communications, and Legal departments can leverage pop-up messaging to make sure important information is seen by users.
You can use the announcement bar to display a custom message at the top or bottom of any enterprise application so it cannot be missed by employees. This is a great way to announce a change or other important updates that would usually have been missed if sent through email.
Custom announcements can be shown at exactly the right time you need, for the exact duration that you need. Specify a time frame for announcements to be shown, and rest easy knowing that your announcements will be displayed without any additional work required.
Full Usage Analytics Reporting
Never be in the dark again wondering about what type of help your users are looking at. You get full usage reporting of exactly which applications your users are clicking on. Not only that, but you will see exactly what searches they are doing in the help system and a full report of which help items are being utilized and which are not.
How do I get more information?
Please fill out this form below to contact us and we'll get back to you ASAP with the next steps.
VisualSP for a Remote Workforce
Communicating with a suddenly remote workforce is hard. We can help during this difficult time. Send Announcements and Tips to remote workers in real-time within the tools they're already using.
When I first joined NCBA, user adoption had been very low and the person that I replaced was too technical for the average end user to understand. As a result our end users did not understand the role of Office 365 in the organization. VisualSP has helped the organization by providing contextual help specific to the area that the end user is working in. The walkthroughs help our users navigate when they experience a new interface for the first time.
Jessica Garcia Moreno
Director SharePoint Administration / NCBA
My favorite part about VisualSP is the context sensitivity of the application. It knows who a user is, where they are and what kind of access they have within the application to be able to deliver specific instruction to that user in the time that they need it. The flexibility to be able to customize the VisualSP interface to be able to deliver our own content is also a big win.
Lynley Hipps
SharePoint Support Manager / TSYS
Our Office 365 journey has taken a couple of years and we knew the tools were out there, but our users appeared confused and adoption was suffering. Support tickets for how-to's were at an all-time high and that is where VisualSP came in. VisualSP has given my team their time back to prioritize other projects and strengthen our organization.
Chris Reynolds
Head of System Devleopment and Application Serverless Systems / Arden & Gem
What a fantastic idea and implementation. VisualSP system is a great assisted help solution for end users. Not only is help just a click away, but it's in the context of what they are currently doing.
Andrew Connell
MVP / Critical Path Training
Modine is very happy with the VisualSP system. We have been able to set baseline knowledge in our organization for both business users and IT
David Webster
Modine Manufacturing
VisualSP has really got this idea nailed and has taken the extraordinary library of video snippets and added them in-context.
Dan Holme
Director of SharePoint / Microsoft
What I've found in the last 8 years is that users want to know how to do their job. We use the VisualSP Help System and have added our own content. This has helped tremendously and reduced the phone calls, emails, and help desk tickets. I now provide training when requested and focus it on the things people need to do in the platform: Submit leave, upload meeting minutes, etc.
R. Witcher
Content Manager / West Georgia Technical College
Your VisualSP Help System is in place and working great!
Bruce Rawles
Web & Intranet Support, / University of Colorado Denver
I'm such a big fan of the VisualSP Help System because it brings training to people when and where they need it. The advantage of VisualSP is that it delivers just the right amount of training to you – just when you need to learn something – which means you're much more likely to retain it. Even if you don't, the information is there for you in context the next time you do that task!
Susan Hanley
Microsoft MVP, Founder / Susan Hanley, LLC
Companies that use our products