Elevate Your Team's Performance in
Dynamics 365 CRM & Power Apps
Increase efficiency and boost sales by helping your team feel more confident in Dynamics 365 CRM & Power Apps.
Create Confident

Dynamics 365 CRM & Power Apps Users
VisualSP is a Digital Adoption Platform (DAP) that provides in-context support and communication for Dynamics 365 CRM & Power Apps users.
With VisualSP's just-in-time learning®, users can quickly find the information they need without having to contact support.
Accelerate Dynamics 365 CRM & Power Apps onboarding by providing users with step-by-step instructions on how to navigate the platform and complete important processes.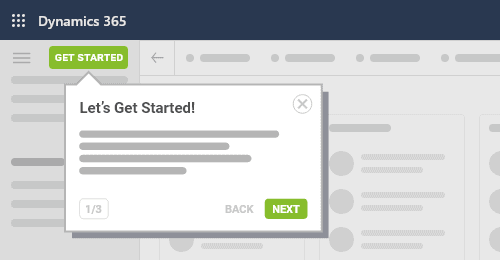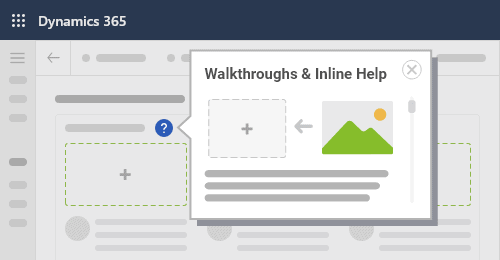 Customize

Training Content
VisualSP provides out-of-the-box Dynamics 365 CRM & Power Apps content to help you get started, but you can also create your own content to meet the specific needs of your users.
Control

Who Sees Content & Where
VisualSP is the ONLY Digital Adoption Platform for Dynamics 365 CRM & Power Apps that lets you target contextual help content based on the specific application, scope, and security role of the user.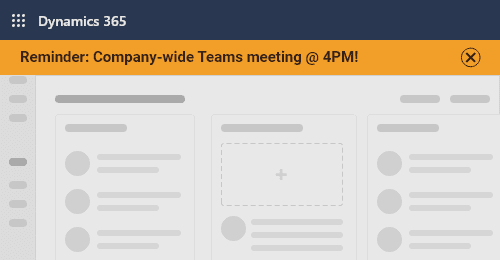 Communicate

More Effectively
Communicate relevant information with your users easily and effectively with VisualSP's in-app notifications, banners, and pop-up alerts.
Get a Clear Picture

of Your ROI
VisualSP's full usage reporting gives you a clear picture of the hours saved, increased productivity, and return on investment.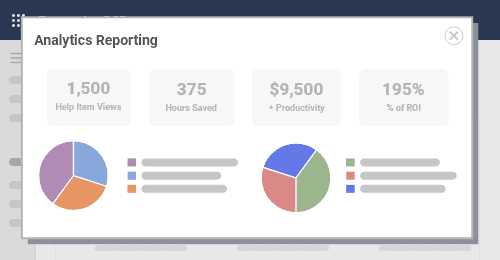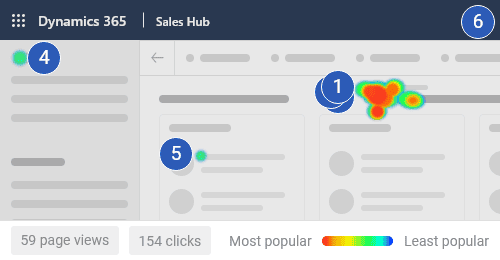 Pinpoint

Support & Compliance Issues
Learn exactly how your team is using Dynamics 365 CRM & Power Apps with VisualSP's Microsoft Clarity integration. Identify areas for improvement by looking at heatmaps, recorded sessions, and more.
"I've worked with several vendors for different applications and different services and I would say that hands down VisualSP's service and support is phenomenal… In fact, [the company] is trying to use it in other applications because they saw how successful it was in Dynamics."
Provide Consistent Support

Across Applications
Make VisualSP your team's go-to in-context support resource, no matter which web application they are in.
Ready for a
Quick & Hassle-Free

Launch?
We know you are more than ready to cut IT tickets, improve your team's productivity, and increase sales.
Our Quick Start Launch and easy-to-use platform gets you up and running in no time.
Q. Which specific Dynamics applications does VisualSP support?
A. VisualSP can be added to provide contextual support and training in all model-driven and canvas Power Apps applications. Dynamics 365 applications supported include Dynamics 365 CE/CRM, Business Central, Finance & Operations, etc. In fact, if you are looking to support your users everywhere with a consistent context-sensitive help & support system, we can support all your web applications.
Q. Is it hard to deploy VisualSP to Dynamics 365?
A. Not hard at all! In fact, once our customers are ready, we usually help you deploy VisualSP within Dynamics or your Power Apps in a couple of hours. Deploying VisualSP is done by uploading the VisualSP-managed solution or using a browser extension (or both – they do not conflict). Once installed, it automatically detects your signed in user, matches to a subscription on our back-end system, and just works magically. Try it for yourself.
Q. Which other applications does VisualSP support?
A. VisualSP is compatible with most browser-based applications. So, whether it's a custom web app that was built in-house or a commercial SaaS application, VisualSP can provide your users with the context-sensitive support and training they need, when they need it, to make it easy to navigate all the applications used within your organization.
Just to name a few: All Microsoft 365 apps, Salesforce, ServiceNow, Workday, SuccessFactors, NetSuite, Nintex, RecordPoint, Veeva Vault, HubSpot, custom web applications, and many more.
Q. Will VisualSP work if we are on Dynamics on-premises?
A. Absolutely! We have many customers using VisualSP for both Dynamics on-premises as well as Dynamics online.