Simplify CRM

in Dynamics 365
Microsoft Dynamics 365 CE doesn't have to be complicated. Reduce support costs and ensure your workforce stays compliant and is self-reliant with a Digital Adoption Platform (DAP) for Dynamics 365.
VisualSP is a Digital Adoption Platform (DAP) that adds a powerful support layer on top of Microsoft Dynamics 365 (and other apps) which empowers your workers and decreases the support burden on IT.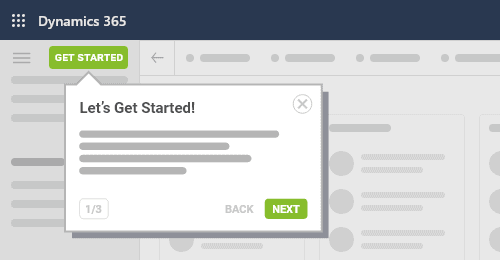 Integrate Tightly With D365
VisualSP integrates seamlessly with Microsoft Dynamics and provides a powerful support and training experience for users without the need to switch application context.
Forget outdated training classes and seminars. VisualSP's no-code guided walkthroughs, inline contextual experiences, and how-to videos mean your users can learn right at their desk within the flow of their work.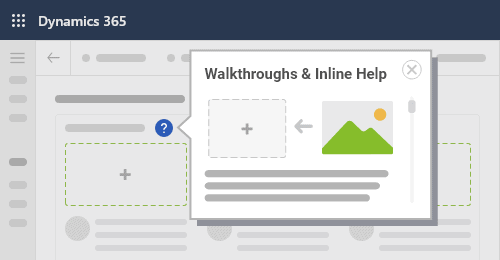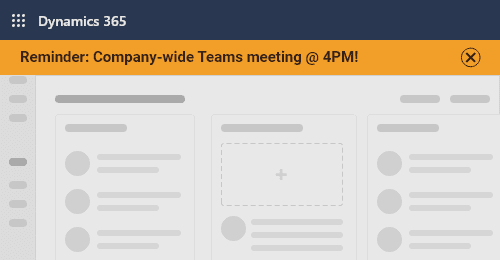 Communicate More Effectively
Messaging tools like in-app notifications, banners and popup alerts make communicating relevant information to your users easy and effective. Say goodbye to email blasts and bulletin board notices!
VisualSP's powerful analytics engine provides you with full usage reporting. Track hours saved, increased productivity, and your exact return on investment.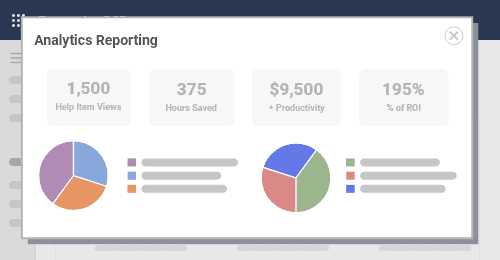 We conduct weekly live webinars where we demonstrate how VisualSP supports faster digital adoption and boosts ROI of your technology. We will guide you through the system and show you the many benefits VisualSP offers your end users to boost digital adoption.
"We rarely get support questions anymore. And, I believe having the information accessible to people [at the moment of need] has been a significant help. Prior to using VisualSP, even though people knew the answers, we were still receiving the same questions all the time. I think just having the information right at a moment's glance for them has helped with the support burden."
VisualSP is the only Digital Adoption Platform for Dynamics 365 that lets you target contextual help content based on the specific Dynamics application, scope, and security role of the user.

Reduce IT Support Tickets
With In-Context Help & Training
Increase ROI & Productivity
By Empowering Sales Teams

Boost Dynamics 365 Adoption
By Simplifying Tasks
Speed Up OnBoarding
With Easy-To-Follow Walkthroughs

Create Custom Training Content
Specific To Your Organization

Accelerate Digital Transformation
By Providing Just-In-Time Support
Explore

VisualSP's Digital Adoption Platform for Microsoft Dynamics 365
Find out how VisualSP can increase digital adoption and improve ROI in Dynamics 365
Q. Which specific Dynamics applications does VisualSP support?
A. VisualSP can be added to provide contextual support and training in all Dynamics 365 applications including Dynamics 365 CE/CRM, Business Central, Finance & Operations, etc. In fact, if you are looking to support your users everywhere with a consistent context sensitive help & support system, we can support all your web applications!
Q. Is it hard to deploy VisualSP to Dynamics 365?
A. Not hard at all! In fact, once our customers are ready, we usually deploy VisualSP within Dynamics in a couple of hours. Deploying VisualSP for Dynamics 365 is done by uploading the VisualSP managed solution or using a browser extension (or both – they do not conflict). Once installed, it detects the signed in user, matches to a subscription in our backend and just works magically!
Q. Which other applications does VisualSP support?
A. VisualSP is compatible with most browser-based applications. So, whether it's a custom web app that was built in-house or a commercial SaaS application, VisualSP can provide your users with the support they need, when they need it, to make it easy to navigate all the applications used within your organization.
Just to name a few: All Microsoft 365 apps, Salesforce, ServiceNow, Workday, SuccessFactors, NetSuite, Nintex, RecordPoint, Veeva Vault, HubSpot, custom web applications and many more!
Q. Will VisualSP work if we are on Dynamics on-premises?
A. Absolutely! We have many customers using VisualSP for both Dynamics on-premises as well as Dynamics online.
VisualSP Also Integrates With…