Leverage VisualSP to Expand Your Consulting Business
Measurably improve your customer's Dynamics 365 user adoption & Microsoft 365 training while growing your business by joining VisualSP's Premier Global Partner Network
Why Partner with VisualSP for Microsoft 365 & Dynamics 365 User Adoption?
Becoming a premier VisualSP Digital Adoption Partner will help you add value to your existing clients by maximizing their Microsoft 365 tech investments, while enhancing your profitability
Earn additional revenue with every Dynamics 365 and Microsoft 365 sale
Receive a commission for every enterprise license you sell, with earnings increasing based on the number of users per instance.
Improve customer satisfaction, user experience & Dynamics 365 user adoption
Accelerate user adoption across Microsoft 365 applications by providing VisualSP's best-in-class platform to your customers.
Expand your services & enhance your profitability
Unlock new opportunities to earn more service revenue with VisualSP's enterprise solutions, by adding platform licensing and associated services to every sale.
Increase your credibility & truly differentiate
Differentiate with in the moment contextual Microsoft 365 training and Dynamics 365 user adoption tools with the complete Visual Support Platform.
Build upon 20+ years of Microsoft 365 support & adoption success
Built by Microsoft solutions experts, the Visual Support Platform has driven digital adoption supporting 2+ million enterprise end users worldwide.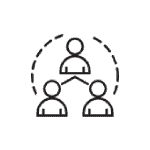 True partnership supporting your Microsoft 365 & Dynamics 365 practice
Premier VisualSP Digital Adoption Partners enjoy ongoing client support, free weekly partner live training demos, informative use-cases, illustrative resources at your fingertips, plus regular performance reviews & documentation.
How We Value-Add to Your
Success
Your clients expect a full Dynamics 365 user adoption package, which often results in manually pulling various resources and tools together haphazardly. We've done the heavy lifting for you through delivering a Digital Adoption Visual Support Platform that is fully supported.
Become a Premier VisualSP Digital Adoption Partner to gain best-in-class training tips, short videos, and walkthroughs coupled with our exceptional service packages including onboarding, performance reviews and custom content development in one, complete digital user adoption package.
Don't Just Take Our
Word

For It...
"We resell several partner products and VisualSP's commission is very generous compared to most. We are motivated to always include VisualSP in our proposals because we're sharing in some of the revenue. It's a great partnership, and a great product that is continuously being enhanced."
David Kruglov
Managing Director at Share Squared
Premier

VisualSP Digital Adoption Partners From Around the Globe
Join an elite community of VisualSP Digital Adoption Partners to find a community of like-minded, growth driven service partners that value providing the best digital adoption tools to their clients to drive greater user adoption and high customer satisfaction. Grow your practice and your service offerings by joining VisualSP's Premier Global Partner Network.
Choose

Your VisualSP Digital Adoption Partnership Type
With this model, a partner would purchase one large subscription and then sell "seats" to their customers until they reached the total user count in their master subscription.
All content is managed by the partner in the parent subscription with branding and setting options available for each child subscription. Partner can also create general help items that can be shared across all customers in master subscription or create unique help items to target specific customers via URL filtering.
This model lends itself favorable for managed service providers (MSP's) and has larger profit margin potential!
Value Added Resellers (VAR)
Partner with VisualSP to sell the Virtual Support Platform to drive digital adoption directly in your client's Microsoft 365 and/or Dynamics 365 tenant(s)...or across any web-based application!
Increase your revenue, and deliver in-the-moment support, training and education tips and tools needed to drive long-term digital adoption and productivity. As a preferred partner, you receive a 30% discount on each annual subscription.
There are numerous opportunities for your company to offer valuable add-on services to bring in additional revenue such as: onboarding, creation of custom help items, regular workshops and training, etc.
Take

the first step to becoming a VisualSP partner
Interested in joining the VisualSP partner program? Fill out the form below and we'll be in touch with next steps. We look forward to connecting!