Guide Employees

in Microsoft Office 365
VisualSP's Digital Adoption Platform helps your employees use Microsoft Office 365 and SharePoint to their full extent, without expensive, time-consuming and ineffective training courses.
In-App Microsoft 365
Guidance
VisualSP is a Digital Adoption Platform (DAP) that adds an interactive support layer on top of Microsoft Office 365 and SharePoint that guides users through complex interfaces and workflows.
There is no replacement for in-the-moment training and guidance. VisualSP's Digital Adoption Platform overlays the Office 365 interface, adding a support layer directly where your users are doing their work.
Guided walkthroughs, inline contextual experiences, how-to videos, and other customizable elements allow you to provide robust, customizable training and step-by-step guidance through complex Office 365 workflows.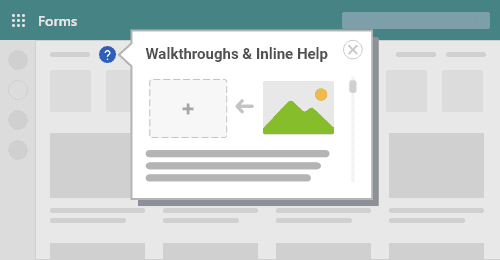 Powerful messaging tools like in-app notifications, banners and popup alerts make communicating important and time sensitive information to your users easy and effective.
VisualSP's powerful analytics engine provides you with full usage reporting. Track hours saved, increased productivity, and your exact return on investment.
"VisualSP is indispensable. It allows us to reduce the effort in creating our own learning content, since there is so much content made available by VisualSP. And now our support organization responds to inquiries and service requests with links to the appropriate help in VisualSP."
Microsoft 365,
Step-by-Step
Revolutionize user-experience by providing end-users with in-the-moment tips and tricks across all Microsoft 365 applications. Provide measurable benefits to both users & IT departments.
Reduce IT Support Tickets
With In-App Self-Support
Increase Software ROI
By Boosting Productivity
Boost Digital Adoption
By Improving User Experience
Speed Up OnBoarding
With Just-In-Time Learning®
Improve Corporate Communication
By Reaching Users In-App
Gain Insight Into Behavior
With Real-Time Tracking & Analytics
Remove
Learning Fatigue

in Microsoft 365 & SharePoint
Help users get more from Microsoft 365 & SharePoint without expensive training courses
No matter which application your users are in, VisualSP will be there to provide the support they need. All they do is click on the VisualSP tab to get the help they need to finish the task at hand. It's as simple as that!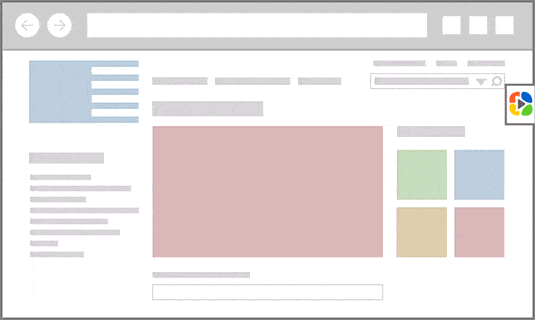 VisualSP provides users with interactive walkthroughs of applications they aren't familiar with, to guide them through the most important learning points. VisualSP provide & maintain pre-built walkthroughs, but also provides you with the opportunity to customize walkthroughs or build your own from scratch.
VisualSP provides countless training videos, and gives you the ability to create custom video messages, to help users overcome obstacles as they arise.
Make it as simple as possible for users to access tips and support by placing inline help icons inline across Microsoft 365 and SharePoint. Adding inline help content can be done quickly and easily, and placed wherever you feel is necessary within your Microsoft 365 environment.
With VisualSP, you can ensure that your users don't miss important company messages by adding important announcements that pop-up within their applications. Plus, you can track when the pop-up is clicked so you can accurately track how many people across your organization have seen your message.
VisualSP announcement banners allow you to display a message at the top of any page across Microsoft 365 applications, and are a great way to make employees aware of important news. You have full control over the announcement banner, so can set the right message at the right time.
VisualSP provides full usage reporting so you can see exactly what your users are struggling with and when they are looking for support. Plus, you have full transparency into how many hours have been saved and the ROI on this otherwise lost time.
Explore

VisualSP's Microsoft 365  & SharePoint Training Platform
See first-hand how VisualSP can increase digital adoption and improve ROI
Q. Which applications does VisualSP support?
A. VisualSP is compatible with most browser-based applications. So, whether it's a custom web app that was built in-house or a commercial SaaS application, VisualSP can provide your users with the support they need, when they need it, to make it easy to navigate all the applications used within your organization.
Just to name a few: Salesforce, ServiceNow, Workday, SuccessFactors, NetSuite, Nintex, RecordPoint, Veeva Vault, HubSpot, custom web applications and many more!
Q. Which Microsoft 365 applications do you have content for?
A. Most of them! Here is the complete list: Microsoft 365 Overview, Teams, OneDrive, SharePoint, Dynamics, Outlook, Excel, Word, PowerPoint, Forms, Planner, Sway, and Yammer.
Q. Can I customize VisualSP with our own content?
A. All of the content that we provide is customizable. You can create your own content in the system as well. Your content can reside in your own Microsoft Office 365 tenant or any other repository behind your firewall.
Q. Does VisualSP support modern interfaces of SharePoint Online?
A. Absolutely! Our system detects and supports all modern interfaces of SharePoint as well as classic interfaces, so your users can get help relevant to the interface they are using.
Q. Does this work on SharePoint On-Premises?
A. Yes! VisualSP can be used on SharePoint On-Premises.
Q. Does VisualSP Support Microsoft Teams?
No Matter What Digital Tools You Use, VisualSP Is Here For
You…