Who we are

and what we are about
VisualSP makes it easier for employees to cope with constant inevitable changes in their enterprise environment. The VisualSP system is used by millions of end users around the world. The system helps You support your users on any enterprise web application platform with relevant bite-sized contextual microlearning at the moment of their need to battle the forgetting curve.
In 2015, we changed the name of the company to VisualSP since our product had become our flagship delivery system for our content. When Microsoft made the turn to SharePoint Online and Office 365 in 2016, we also made a turn with them and released a new version of the product which ran in the browser. This was the birth of the product as it currently stands today.
We then expanded our focus to support any enterprise web application in addition to Microsoft applications. We also realized that learners respond to different types of learning methods. So in addition to videos, we started supporting many different types of microlearning including  walkthroughs, tip sheets, animated images and more.
In 2011, we were seeing a trend. Our customers were telling us that it was difficult for them to motivate their users to go to a destination site, a knowledge base, where the videos were hosted. They asked us if there was a way to provide their users with these videos in context of their environment. That's when we started sketching out a plan to deliver the videos directly through the SharePoint on-prem ribbon and to users in context of their environment. We called the product VisualSP and released it in 2012.
In 2009, many customers and prospects started asking us to create videos for their end users. We created dozens of videos directed to the end user. These were each 10 minutes to 20 minutes long. The problem that we soon discovered was that end users did not learn the same way as developers and administrators whom we were used to teaching. The videos had to be short and to the point for end users to be motivated enough to watch them. They did not want to be trained, they instead wanted to be helped with the problem at hand at their moment of need. So we made a package of 107 videos. Each two minutes in length and extremely focused on a specific functionality that end users needed to know about.
In 2005, Asif Rehmani started teaching in-person classes on SharePoint 2003. Classes were focused on developers, administrators and power users. Asif was teaching these classes all around United States with an average class size of about 25 people.
A year into the teaching, it was very apparent that same types of questions in the classes were coming up again and again so Asif and his fellow teacher, Wendy, started recording answers to those questions using Camtasia in the form of a screencast (a screen recording showing the answer) and started posting them on a site Asif registered called www.sharepointscreencasts.com. That was the beginning of the online presence for the company. Sharepointscreencasts.com changed to sharepointelearning.com and then to sharepoint-videos.com. The company specialized in teaching SharePoint through online pre-packaged video courses.
Asif is very focused on digital adoption and digital transformation of organizations. Simply stated, focusing on how you get the best use out of the technologies in your organization and help your employees get the best experience along the way.
Asif has been training, consulting, mentoring and speaking at conferences on Microsoft technologies since 2002. He has authored several books over the years for Wiley publications. Asif has been a Microsoft MVP since 2007.
Eric currently heads up VisualSP's Services Division, focusing on real-life, hands-on ways to increase user adoption. He is a Microsoft Office 365 and SharePoint Architect with broad expertise in network and server infrastructure, project management, and desktop applications. He has 20 years of experience in IT and specializes in implementing, administering, governing, and customizing SharePoint. He is a speaker at international conferences, an author of multiple SharePoint training courses, and has led teams, consulted, coded, and taught technical and end users in businesses ranging from 50 to 130,000 employees.
Jeremy's primary responsibility is related to the development and maintenance of VisualSP's websites and Cloud SaaS applications. He is a full-stack application developer and application systems administrator with more than 20 years experience.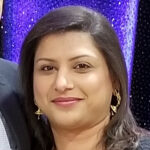 Anisa serves as the head of accounting, and oversees the preparation of financial reports, company financials and account receivables at VisualSP.
Anisa comes from a financial analyst background previously having worked at Goldman Sachs and Zurich Investments. She worked directly with the traders for the money market funds to reconcile the money market accounts on a daily basis.
Darrell has been working in IT for over 20 years, primarily in web design and development. Since 2013, Darrell has worked with SharePoint in various roles. At VisualSP, Darrell supports customers worldwide with help issues, contributes help articles and tutorials to the VisualSP support knowledge base, and runs test scripts for quality assurance.
As a content producer and manager at VisualSP, Tara brings a wealth of expertise in creating captivating and innovative marketing assets, as well as designing and implementing effective training initiatives. With a strong passion for driving engagement and enhancing brand visibility, she is dedicated to developing compelling content strategies. Tara strives to craft impactful narratives and visually appealing assets, which ultimately contribute to increased user acquisition and brand loyalty.
Gary is the principal application developer at VisualSP and has been involved in all aspects of development of the entire suite of VisualSP products since the beginning. Gary got his start building web applications in college almost 30 years ago, back when you could almost literally surf the web in a day, and has been developing enterprise class web sites and applications ever since. Gary is also an 8 year Microsoft MVP for his contributions to the community through open source projects, published books, blogs, and conference presentations.
Chad is the web designer for VisualSP. He is responsible for updating the VisualSP website to follow modern design standards and provide a great browsing experience. Chad has been building websites for over 20 years, using various technologies — from hand-coded HTML/CSS to the latest frameworks and content management systems. His goal is to create visually pleasing and user-friendly designs that load fast and convert visitors to customers.
Imran is a graphic designer for VisualSP. He has more than 10 years of experience in the field of graphic design, Imran has been instrumental in designing and contributing to the website as well as creating offline marketing collateral. He is responsible for creating original designs for VisualSP's promotional campaigns and maintaining a consistent theme between the web and print designs while pushing the creative boundaries. Imran's expertise in creating 2D vector, raster and 3D designs enable him to turn his vivid imagination into reality.