Earn More

with a Master Subscription
VisualSP has created a new partner management system that makes managing customer subscriptions a breeze
What

is a Master Subscription?
With this model, a partner purchases one 'master' subscription and then sells 'seats' to their customers until they reached the total user count in their master subscription.
All content is managed by the partner in the master subscription with branding and options available for each child subscription.
In this scenario, our partner, Contoso, purchases a VisualSP Master Subscription for 1,000 seats at a cost of $9,185. They then sell the seats to their customers for a total revenue of $42,285. That's $33,100 in profit!
Contoso just tripled their investment. You can do the same.
Customizable Digital Adoption Solutions
Our new partner management system allows Managed Services Providers (MSP) to offer the customizable VisualSP digital adoption platform to their customers in an efficient, easily-manageable and lucrative way.
The master subscription gives partners enhanced functionality to more easily manage any number of customers from a single subscription. Partners can easily duplicate and share "generic" content across all customers and provide custom help items for specific accounts. Partners can view analytics across their full master subscription or dig into the details for each separate account.
We Make Managing Customer Subscriptions
Easy
Save time
Spend less time managing customers and more time working with them.
Earn More
VisualSP is easy to sell and even easier to deploy. Less time = higher ROI.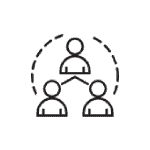 Manage Easily
Adding help items or making changes for all customers is as simple as customizing the experience for one customer.
With our new master subscription, the process of rolling out VisualSP to any number of customers is a piece of cake. Focus on what you do best – running your business – and we'll take care of the rest.
Global Settings
Create general help items to roll out to all customers in the master subscription.
Customer-specific Settings
Create custom help items specific to individual customers.
White Label
Customize the branding for each child subscription for a white label experience.
Analytics
View usage and ROI analytics across your master subscription or dive into each customer subscription individually.
What Our
Partners

Are Saying...
"We resell several partner products and VisualSP's commission is very generous compared to most. We are motivated to always include VisualSP in our proposals because we're sharing in some of the revenue. It's a great partnership, and a great product that is continuously being enhanced."
David Kruglov
Managing Director at Share Squared
Start
Earning More

with a Master Subscription
Contact us for a free 30-minute consultation!