It's time to modernize your compliance training program
VisualSP helps you evolve from compliance training to compliance learning
Regulatory compliance can make or break your organization.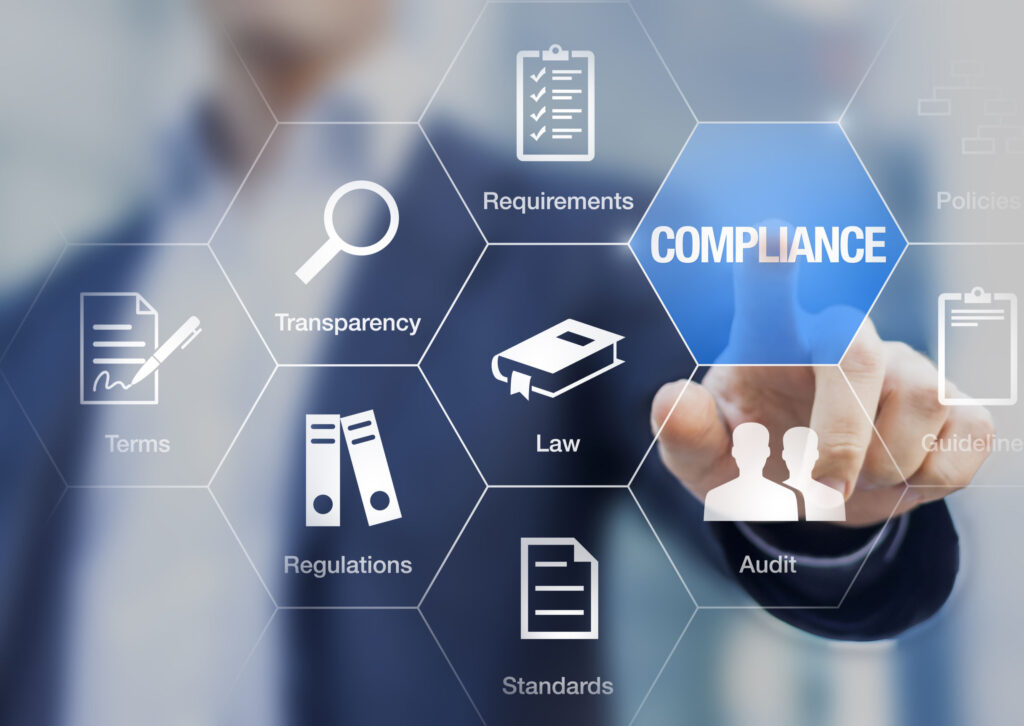 One of the biggest trends of the digital age is the growing complexity of regulation. Whether the topic is online privacy, harassment, record retention, sanctions compliance, anti-trust, anti-money-laundering, or a host of other areas – organizations across all industries must continually revise their policies and train their users to understand them so they can make the right decisions day to day.
Regardless of how brilliant your organization's ideas, how innovative its technology, or how solid its business plan – how it handles compliance matters can determine its eventual success or failure, all by itself. It picks winners and losers every day.
Compliance by the numbers
Companies state that keeping policies current with changing regulations is their number one challenge
Companies have an advanced compliance and ethics training program
Companies rate their compliance and ethics training programs as basic or reactive
Companies in the U.S. have faced 7-digit fines for HIPAA compliance problems since 2016
In addition to fines for non-compliance – the associated loss of credibility in the market can be debilitating. In some cases, employees and individuals in leadership positions are personally prosecuted for lapses in compliance. According to the Harvard Business Review of March, 2018 – culpability is frequently determined based on how effective the organization's compliance training program is.
Compliance and Policy Adoption
How to build and maintain an effective online training program.
How effective is your compliance training program?
How confident are you that you're doing all you can to train your employees to make good decisions?
Your answer matters – a lot.
Close the gap between compliance policies and actual compliance
Sending large employee populations through traditional training courses on complex topics is not very effective.
This is a lesson that the technology industry has had to learn.
Do you remember what was in the last SharePoint or Dynamics training course provided at your company? Probably not. It simply isn't in your focus area, so you weren't very interested and couldn't relate it enough to your daily tasks to retain it.
The same answer probably applies to most attendees for your compliance training courses. One popular study suggested that adults learn as little as 10% from formal training, with the other 90% coming from informal methods and hands-on work.
That doesn't mean you shouldn't train your employees. It means you need to adapt and supplement your methods. To have real effects on employee performance, your compliance training program must also deliver relevant compliance guidance regularly and on-demand using informal training elements such as performance support, micro-training, and in-context delivery.
Micro-training in Context – The Path to Faster Digital Adoption and Compliance
How Digital Workplaces Can Ensure Regulatory Compliance
You can do this, here's how we'll help
VisualSP is uniquely positioned to help you evolve beyond traditional compliance training to a modern policy adoption program
You need to provide a simple, consistent help experience across web applications
Guidance filtered to show only what's relevant in the current application
A help gallery where users can search across all applications
Help icons inserted within menus, buttons, and other elements in their tools to answer questions as they occur naturally
Popup messages for important reminders
You need to easily create your own help content without a dev team
A centralized point-and-click authoring tool where you can curate and create tailored guidance based on your own policies in a variety of formats.
You need reliable expertise to transform your policies and guides into microtraining
Deployment coaching and assistance
Content harvesting from existing materials in longer formats
Ongoing adoption activities, like Office Hours and tailored webinars
How do I get more information?
Please fill out this form below to contact us and we'll get back to you ASAP with the next steps.
Hear what others have to say!
I was part of the product testing when we were originally seeking a product for SharePoint tier 1 support at TD Ameritrade and thought at that time that it was a no brainer to go with VisualSP. I was very happy when management approved the purchase and even happier after seeing the results. Our calls for support were substantially decreased; prior to having VisualSP, I received 3-4 times as many questions and requests for help. And now, your product interface has improved, the content is so much richer than when we first came on board, the growth of this product is very impressive. I would highly recommend it to anyone looking to enhance their tier 1 support.
Malinda Powell
Senior Systems Analyst / TD Ameritrade
When I first joined NCBA, user adoption had been very low and the person that I replaced was too technical for the average end user to understand. As a result our end users did not understand the role of Office 365 in the organization. VisualSP has helped the organization by providing contextual help specific to the area that the end user is working in. The walkthroughs help our users navigate when they experience a new interface for the first time.
Jessica Garcia Moreno
Director SharePoint Administration / NCBA
My favorite part about VisualSP is the context sensitivity of the application. It knows who a user is, where they are and what kind of access they have within the application to be able to deliver specific instruction to that user in the time that they need it. The flexibility to be able to customize the VisualSP interface to be able to deliver our own content is also a big win.
Lynley Hipps
Support Manager / TSYS
Our Office 365 journey has taken a couple of years and we knew the tools were out there, but our users appeared confused and adoption was suffering. Support tickets for how-to's were at an all-time high and that is where VisualSP came in. VisualSP has given my team their time back to prioritize other projects and strengthen our organization.
Chris Reynolds
Head of System Development / NHS Arden & Gem
What a fantastic idea and implementation. VisualSP system is a great assisted help solution for end users. Not only is help just a click away, but it's in the context of what they are currently doing.
Andrew Connell
MVP / Voitanos
Modine is very happy with the VisualSP system. We have been able to set baseline knowledge in our organization for both business users and IT
David Webster
Modine Manufacturing
VisualSP has really got this idea nailed and has taken the extraordinary library of video snippets and added them in-context.
Dan Holme
Director of SharePoint / Microsoft
What I've found in the last 8 years is that users want to know how to do their job. We use the VisualSP Help System and have added our own content. This has helped tremendously and reduced the phone calls, emails, and help desk tickets. I now provide training when requested and focus it on the things people need to do in the platform: Submit leave, upload meeting minutes, etc.
Robin Witcher
Content Manager / West Georgia Technical College
Your VisualSP Help System is in place and working great!
Bruce Rawles
Web & Intranet Support / University of Colorado Denver
I'm such a big fan of the VisualSP Help System because it brings training to people when and where they need it. The advantage of VisualSP is that it delivers just the right amount of training to you – just when you need to learn something – which means you're much more likely to retain it. Even if you don't, the information is there for you in context the next time you do that task!
Susan Hanley
Microsoft MVP, Founder / Susan Hanley, LLC
Companies that use our products